Jaguar, manufacturers of classy, luxurious, high performance vehicles which car thieves LOVE to target!
For almost 100 hundred years Jaguar has been at the forefront of motoring technology, manufacturing lavish cars hot on the list of the most seasoned car thief!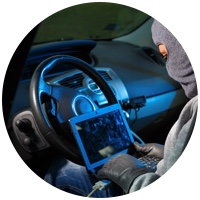 Today car thieves are using electronic devices and other clever techniques to steal cars without a scratch, in fact car thieves are becoming so cunning and daring even some of Q's ingenious inventions for 007 would struggle to deter them!
Luckily we have the answer! A sophisticated car tracker from TrackerFit could help deter thieves or assist in the return of your vehicle should the unthinkable happen! Below you'll find a number of car trackers suitable for all makes and models of Jaguars…

The only Jaguar UK approved stolen vehicle recovery product that can pinpoint the location of a stolen vehicle, Jaguar Trackstar is a small covert electronic device which uses GPRS, GSM and the latest motion sensing technology.
Full battery back-up
Unique motion sensing detector
System automatically arms when the ignition is switched off
Movement sensor – detection & control centre alert

A more discreet version of the TM450 Tracker, the RAC Trackstar TM470 is insurance approved, endorsed by all Police Authorities and provides 24 hour monitoring.
Using the latest car tracking technology including GPS, battery backup and movement sensor alerts the RAC Trackstar TM470 is suitable for all makes and models of Jaguar.

Recommended by Jaguar the Trackstar Cat 5 car tracker is the daddy of all Jag car trackers.
Insurance Approved Trackstar CAT5 system has a unique wireless tag paired to the tracking device. If this tag is not present, the system sends an alarm when the car is driven away.
Trackstar Cat 5 car tracker also enables users to cut the engine using a remote command. Other sophisticated features include:
Activates automatically when you leave the vehicle
Protects vehicle from key theft
Detects if the vehicle is towed away
Motion sensing alert - detects unauthorised movement
Detects if the vehicle battery is disconnected
Detects attempts to tamper with the tracking system

The Best Jaguar Car Trackers Installed by Approved Engineers
Specialising in car trackers for Jaguars TrackerFit offer a complete installation service throughout the UK. With a team of Thatcham Approved mobile engineers we'll install your Jaguar car tracker at a time and place that best suits you!
So if you'd like to protect your Jaguar from car theft get in touch with one of our experts today, visit our Nationwide Install page to call your local helpline or call us on 0800 756 5100.