Cat S7 Trackers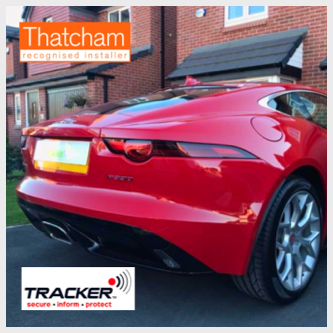 S7 Tracker: High-Quality Thatcham S7 Trackers for Enhanced Security
New data from the Office for National Statistics (ONS) illustrates that car theft increased by 29% between September 2021 and 2022. There was also a 14% rise in vehicle crime of all types, including theft of items from inside a vehicle. This figure is set to increase as the cost-of-living crisis takes hold. The S7 is an active deterrent for thieves due to the amount of features it includes to safeguard your vehicle against potential theft and damage.
What is an S7 tracker?
The S7 tracker is a tracking system which offers fundamental tracking capabilities for vehicles. It meets the Thatcham S7 standard, signifying that it has been through a series of rigorous tests and meets set criteria for functionality, security, alongside effectiveness.
The main appeal of the S7 is its inbuilt GPS technology. This can be deployed to identify the location of a vehicle in real-time, allowing authorised individuals to monitor and track their vehicle remotely. With its real-time tracking, the S7 tracker can assist in the recovery of a stolen vehicle. It utilises satellite networks to gain pinpoint location accuracy (all trackers have European coverage and global coverage is available for set models). In the case of unauthorised use or access, an alert is sent to a secure server. If this function is included on your device, staff in the server room can then raise a level 1 response to the police recovery unit. Through remotely tracking the vehicle, they can direct the police to its location to aid in its prompt recovery. A quicker recovery rate reduces the prospect of damage and increases the chance of you and your vehicle being reunited.
Benefits of Thatcham S7 Trackers:
Thatcham-approved trackers are recognised by most insurance providers. Through the installation of the S7 tracker, owners may meet insurance requirements and potentially reduce their premiums or maintain coverage.
GPS Tracking: With the installation of the S7 tracker comes peace of mind. This recognised and approved tracking system allows you the ability to track your vehicle in real-time. If you have this function and unauthorised access is gained, an alert is sent to a control room and the police are then notified and supported in the recovery of your vehicle. A recovery team is also sent to retrieve your vehicle.

A GPS car tracker is a stand-alone device that does not require the internet to receive satellite signals.

Whether your vehicle is left unattended for a length of time or parked in an unfamiliar area, you can use the S7 to monitor its whereabouts and ease any concerns.
Battery Disconnect Alerts: Thatcham S7 trackers can detect if the vehicle's battery is disconnected, signifying potential theft or tampering.

If the battery drops to a low level or is disconnected

, your vehicle tracking system will send an instant alert.
Tamper Alerts:

S7 trackers utilise either a driver ID tag or a driver identification system through your smartphone. Unauthorised attempts to control the vehicle made by an individual without the ID or identification system can be detected, triggering an alarm. Through secure communication channels, the S7 can create a link between the tracking device and the tracking system's server, ensuring that only authorised individuals can access the device and its functions.
Geo-fencing: This feature grants you the ability to set virtual boundaries for your vehicle- allowing you to monitor and receive alerts if your vehicle enters or exits specified areas.
Smartphone App: Easily accessible at the tap of your fingertips, the smartphone app can be stored on your home screen for swift access. The app is designed to be user-friendly enabling you to quickly learn and navigate its features. It can be used from virtually anywhere. For updates and alerts, the app can send push notifications to your smartphone meaning that you stay up to date. Apps are regularly updated to improve performance, add new features and address any issues.
FAQs:

How does the S7 Tracker Installation Process work with TrackerFit?
After you have chosen your S7 tracker, our installers will work with you to determine the optimal position for fitting in your vehicle. Placement will be decided dependent on the strongest GPS signal reception and located in a secure place to safeguard against tampering. The S7 tracker will be attached to the vehicle's electrical system to access power.
At TrackerFit, we pride ourselves on the clean installations we provide. By securing wiring neatly and professionally, we can prevent against any interference with the vehicle's components and protect against damage.
Dependent on your vehicle's make and model, the installation process may vary. It is crucial to follow the installation instructions specified by the manufacturer and consult with a professional installer, such as TrackerFit.
Following the installation, our fully qualified engineers will complete comprehensive testing to guarantee that your S7 tracker achieves optimal performance. GPS signal reception will be verified, alongside the link between the tracker and the tracking system's secure server – ensuring that movement detection and tamper alerts are activated. Our installers will talk you through your S7's operating systems and ensure that you are confident with the functions it provides. If further support is required, our professional team are always available to share their knowledge and expertise, just call 0800 756 5100.
How much does a Thatcham S7 Tracker Cost?
The price of an S7 tracker can differ due to brand, features and addition services included. S7 trackers can be found at a lower price point in comparison to S5 and S6 trackers as, in comparison, the S7 provides a basic level of tracking functionality and features. This is not to say that the S7 should be snubbed – GPS tracking, battery disconnect alerts, geo-fencing, tampering alerts and the smartphone app are all sophisticated functions that serve to protect your vehicle from potential damage or theft.
Certain S7 trackers have subscription-based service plans that cover ongoing tracking, monitoring and support. Such plans may have lower costs when compared to higher-level trackers as a result of the reduced features provided.
What's the difference between a cat S5 and S7 tracker?
When comparing the S7 to the S5, consider your security needs and requirements. Unlike the S5, the S7 does may not include advanced features such as remote immobilisation or elevated tamper detection. S7 trackers typically have a simpler installation requirement, compared to higher-security trackers such as the S6 and S5. S5 trackers are recognised, and often required for high-value vehicles, by insurance companies when considering vehicle insurance requirements and have the potential to lower insurance premiums. S7 trackers may not always be acknowledged by insurers. However, both trackers allow you to remotely monitor the location of your vehicle, allowing you peace of mind. The S5 and S7 each have high-level features such as GPS tracking, battery disconnect alerts, geo-fencing and tampering alerts to safeguard your vehicle from theft or damage.
We have a range of the latest category S7 car trackers available from:
SmarTrack

Trackstar

Tracker

Vodafone Automotive- formerly CobraTrak

ScorpionTrack

British Tracking Systems

Meta Trak
Why Choose TrackerFit for Thatcham S7 Trackers?
At TrackerFit, we are with you every step of the way- from choosing the correct tracker for your purpose to the installation and aftercare. With 25 years of installation experience, we pride ourselves on the outstanding service we provide, enabling you to achieve the optimal performance from your tracker. We are completely mobile- whether at home, work or at the dealership, our approved engineers are on hand to install your S7 tracker. Our team is dedicated to ensuring your satisfaction and peace of mind. We are always available to provide support and guidance, even after your tracker is installed, simply call 0800 756 5100.