Motorhome Trackers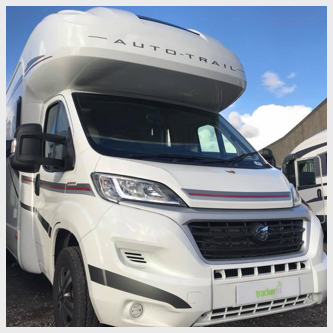 At Trackerfit, we understand that your motorhome is not just a vehicle; it's your home on wheels, your escape to freedom. We also recognise the value of keeping it safe and secure during your travels. Our advanced motorhome tracking solutions are designed to provide you with complete peace of mind throughout your journey.
Why Choose Our Motorhome Trackers?
Advanced GPS Technology: Our motorhome trackers utilise cutting-edge GPS technology, enabling you to track your motorhome's real-time location with precision. With our advanced tracking systems, you can always stay connected to your motorhome, no matter where you are.
Comprehensive Security: Protect your motorhome against theft and unauthorised access with our comprehensive security features. Receive instant alerts on your phone if any unusual movement is detected, allowing you to take immediate action.
Long Battery Life: We offer motorhome trackers with extended battery life, ensuring continuous tracking even during prolonged periods of inactivity. Rest assured that your motorhome is safeguarded, whether it's parked for a short break or stored away during the offseason.
Expert Installation Services, Nationwide: To guarantee seamless integration and optimal performance, our skilled technicians provide expert installation services throughout the UK. We ensure that your motorhome tracker is set up correctly, leaving you worry-free on your adventures
A Broad Range: We offer a wide selection of motorhome trackers from the industry's leading brands, catering to different motorhome models and individual preferences. From discreet, hidden trackers to feature-rich units, you can choose the perfect tracker that aligns with your needs.
Secure Your Motorhome Today!
Don't let worries about motorhome security dampen your travel experiences. Invest in a reliable motorhome tracker from Trackerfit and embark on your adventures with confidence. Our subscription-free motorhome trackers have earned the trust of countless motorhome owners, making us a preferred name in the installation of vehicle tracking solutions.
Take the first step towards securing your motorhome today. Choose a product above or get in touch with our expert team on 0800 756 5100 for free advice.
Frequently Asked Questions
Do you have a motorhome tracker installer near me?
TrackerFit has nationwide motorhome tracker installers! We offer free installation at a location of your choice, whether it be home, work or at a dealership.
How soon can you install my tracker?
Once you have purchased your tracker, you can book an installation slot at a time and location that suits you. In most cases, your tracker can be installed the very next day.
Can I get a motorhome tracker without a subscription?
We understand that some motorhome owners prefer not to be tied down with subscriptions. That's why we offer motorhome trackers without any subscription requirements. Once you purchase our tracker, you own it outright, with no hidden costs or ongoing fees.