Cat S5 Trackers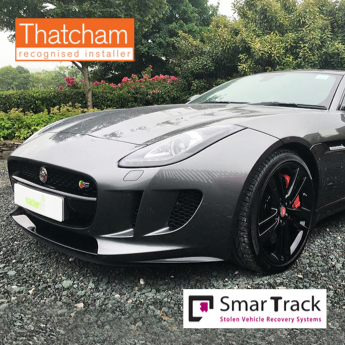 Would you like the benefits of full-time vehicle monitoring? If so, have one of the very best S5 Car trackers on the market installed: the Thatcham-approved SmarTrack S5. Irrespective of your vehicle's make or model, the SmarTrack S5 tracker allows you to monitor your vehicle's status and location at all times – and full European coverage provides you with even more peace of mind. Included as standard is DRS (Driver Recognition System), which guards against key theft, key cloning and unauthorised keyless entry. The system is activated whenever you have your DRS smart key on your person (the Cat S5 tracker comes with two fobs).
If anyone else tries to gain access to your car without this smart key, Global Telemetrics (a 24-hour stolen vehicle monitoring centre) is alerted and will contact you to check to see if your vehicle is secure. The SmarTrack S5 uses Global Positioning System (GPS) and Global Navigation Satellite System (GLONASS) to track your automobile's status. You'll stay connected thanks to the inclusion of General Packet Radio Services (GPRS) and Global System for Mobile (GSM) – and you'll receive vehicle location alerts, too. You will also be notified if your vehicle's battery becomes compromised, or disconnected entirely. Even if this does happen, this newest S5 tracker will continue to operate.
Mobile app integration allows you to monitor your car's position wherever you are. This free app (available for both Android and Apple phones) delivers real-time tracking of your vehicle – or any number of vehicles that are under your supervision. The SmarTrack S5 is fitted wherever and whenever you wish, and by a Thatcham-verified engineer.
SmarTrack S5 Tracker: Thatcham CAT S5 Quality Assured GPS/GLONASS, GPRS and GSM vehicle tracking system.

Suitable for all makes and models.

Price includes: Nationwide Installation at Home / Workplace, fitted by a SmarTrack Approved Engineer.

FREE Downloadable Mobile Phone App Available

*Introductory Offer for limited time only* Lifetime Subscription £599 RRP £699.

Thatcham Category S5 Quality Assured
Free Global Telemetrics app
DRS Systems supplied with 2 driver tags
Protects vehicle from key theft
Motion Sensing Alerts
European coverage as standard

RRP £708.00

£599.00

Fully Fitted (inc VAT)

Trackstar S5 Tracker:Thatcham Category S5 Approved Vehicle Tracker.

Suitable for all makes and models.

Price includes: Nationwide Installation at Home / Workplace, fitted by a Trackstar Approved Engineer.

Thatcham Category S5 approved
European coverage as standard
Advance Driver Recognition (ADR) System
Supplied with 2 driver ID tags
Motion sensing & Tow away alerts
Battery disconnect alert
Low battery alert
Fully transferable

To ensure instant protection when we install your tracker buy your subscription now.

£599.00

Fully Fitted (inc VAT)

TRACKER S5 PLUS Tracker: Thatcham Category S5 approved vehicle tracking system.

Compatible with all Electric and Hybrid vehicles.

Price includes: Nationwide Installation at Home / Workplace, fitted by a Tracker Approved Engineer.

VHF, GSM and GPS location tracking provides Europe wide coverage
Driver tags to identify unauthorised use of your vehicle
Protects vehicle from key theft
Motion sensor
Backup battery in the event of theft
GSM and GPS anti-jamming measures

£599.00

Fully Fitted (inc VAT)