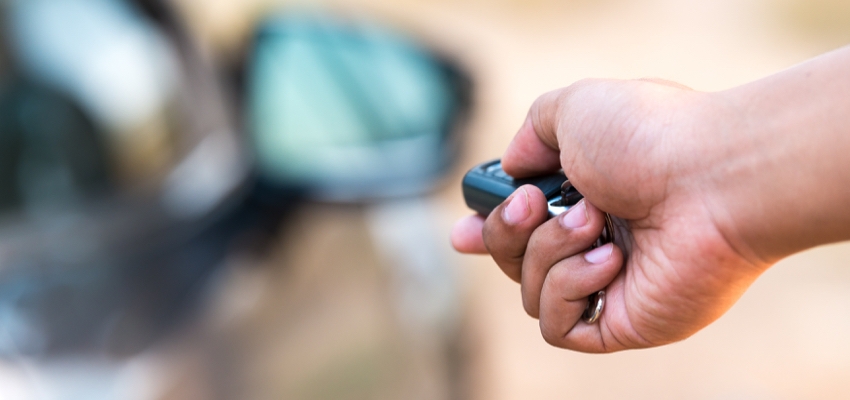 Despite spending most of 2020 in lockdown, with the government advising people to stay home, car thefts continued to rise. According to data from DVLA, on average 205 cars were stolen every day last year! This puts vehicle theft at a 6 year high, an increase that shows no sign of slowing down.
Of these stolen cars, the Office of National Statistics says that 36% are taken via keyless theft. Thanks to it's growing popularity, it's easier and cheaper than ever for thieves to buy unregulated equipment online that will help them bypass your car's standard security system. With this equipment, it takes them as little as 6 seconds to steal your vehicle!
How does keyless car theft work?

New technology has enabled thieves to open, start and steal your vehicle without even entering your home, or touching the car's key. There are 3 popular types of keyless entry: via relay attack, key cloning and OBD compromise.
Relay attack:
This is when thieves use two transmitters or relay boxes to open your car. One is held close to your car and the other near to where you keep your key - for most people, this is just outside of their front door. These transmitters lengthen the signal produced by your key, fooling the car into thinking the key is actually present.
OBD compromise:
The thief plugs a technical device into your car's OBD port and fools the vehicle into thinking that your original key is present.
Key cloning
:
This is a particular threat to non-keyless entry cars, where your key is copied. It requires the thieves to take the customer's original key and copy the data onto a new transponder so that it's an identical match to the original.
Once they have been stolen, cars are likely to be stripped and sold for parts, or driven into a shipping container and sold overseas. This all tends to happen within 24 hours of your car being taken, which is why it's essential to recover your vehicle as quickly as possible.
Having your car stolen is extremely stressful! Not only have you lost a prized possession, but you'll have to deal with the hassle of hire cars, insurance claims and increased insurance premiums in the future. But, all of this can be avoided by adding some extra security to your vehicle.
Protect your vehicle with a tracking device

Here at Trackerfit, we provide several market-leading vehicle trackers that can be used to fight keyless car theft and protect your greatest asset. They go beyond simply checking the location of your vehicle, with some cool new features that will allow you to recover your car quickly and efficiently.
If you're looking for total vehicle security, check out our range of S5 trackers. All of our S5 trackers have been assessed by Thatcham and meet their strictest approval criteria, which means that they're trusted by your insurance company to offer the very best security. Take a look at our recommendations:
Meta Trak S5

The Meta Trak S5 was developed in response to the staggering increase in vehicle thefts. With Meta Trak's new generation tracking technology, 24/7 control room monitoring and an easy-to-use app!
Some of it's most impressive features include:
UK & European coverage included as standard

Live tracking

24/7 control room monitoring

Instant alerts to your phone

Low vehicle battery alert

Service, privacy & transport modes

Thatcham S5 TQA & Insurance Company approved

Location on demand via PC, laptop or smartphone

Free Android or iOS Apps available

Journey history & score

Geofencing

2 x Automatic Driver Recognition (ADR) tags
This tracker will take your security to a new level, protecting you from the very latest theft methods including relay attacks, OBD compromise and key cloning. It's also compatible with all makes and models.
SmarTrack S5
The SmarTrack S5 features automatic driver recognition and comes with optional immobilisation to provide the ultimiate protection.
If any attempt is made to move your vehicle without one of the Automatic Driver Recognition (ADR) tags present, an instant alert will be sent to you and to SmarTrack's secure operating centre. A member of staff will contact you to confirm whether the movement is unauthorised. If it is, they will begin tracking your vehicle and liaising directly with the police to recover your car as quickly as possible.
An additional layer of security available is an in-built immobilisation that can prevent a keyless attatck. There are two types:
Automatic Immobilisation - The vehicle will only start when the authorised driver possessing the ADR tag is present. This feature can be armed and disarmed within the mobile app.

Remote Immobilisation - In the event of a theft, the ScorpionTrack Monitoring Team can remotely immobilise the vehicle preventing the engine from being restarted.
Be safe, not sorry! If you want to protect your vehicle from thieves, invest in a car tracker today. We offer nationwide installation at your home or workplace, fitted by an accredited engineer.