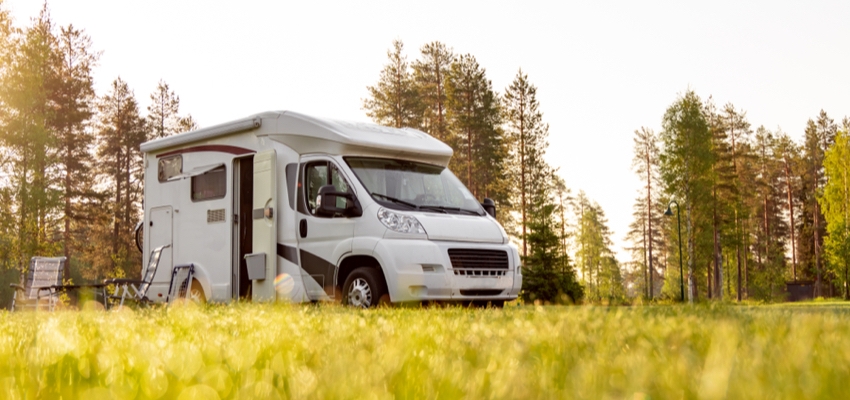 Spring is right around the corner and after a long, cold winter you're probably itching to hit the road again in your motorhome! There's nothing quite like the freedom of finishing work on a Friday, jumping in your motorhome and heading off to your little slice of heaven. That's why it's important to protect your motorhome with a tracker, so you can sleep easy knowing that your pride and joy is protected.
Motorhoming is a Way of Life!
After the last 2 years of lockdowns, restrictions and PCR tests, we've probably all come to appreciate the beauty of the world on our doorstep that little bit more. That includes the Great British staycation. No need for passports, no rushing around the airport, no hours of delays. You can simply hop in your motorhome and you're off! Plus, you've already got everything you need with you - including the kitchen sink! And you can go wherever you want. Will it be the sand dunes of Cornwall or the green climbs of Cumbria?
Motorhomes are quite the investment though. Whether you've spent thousands on a top of the line motorhome or spent hours creating your very own adventure van, you don't want to risk having your motorhome stolen. Installing a tracker is the best way to protect your motorhome against theft, so that you can head off to explore without worrying.
Why You Should Buy A Tracker For Your Motorhome

The best part of having a motorhome is the freedom it affords you! You can simply park up and head out. That often means you're away from your motorhome for hours at a time, if not all day. If the caravan site is quiet or your wild camping, opportunist thieves might attempt to steal your motorhome. The same goes in autumn and winter when your motorhome might lie empty for months on the driveway.
Unfortunately, there has been a spike in motorhome thefts over the last year, as more Brits look to enjoy staycations, driving demand for motorhomes up. There are some simple anti-theft devices, like a steering wheel lock, but determined thieves will likely overcome this. A motorhome tracker is the best protection for your motorhome, as it provides real time updates on your vehicle's location. This gives you the best of recovering your vehicle before it can be sold on - and it has the added bonus of potentially lowering insurance costs.
The Best Motorhome Trackers
Meta Trak S5 VTS

This Thatcham approved tracker is covered throughout the UK and the EU, which makes it perfect for owners who like road-tripping through Europe. It comes with 2 driver ID tags, so if the motorhome is started or moved without the presence of a driver tag, the 24/7 Secure Operating Centre will instantly alert to a theft and inform the police. They will then provide live updates on its location.
You can also access the location of your motorhome on demand via an app. This comes in very handy when you've forgot where you parked! It also allows you to access previous journey history, so you can see things like journey time or fuel usage. This is great when you're planning a big road trip, so you can plan the most efficient route!
This particular tracker also comes with the option to add remote immobilisation for an additional £125. That means if the control room alerts to a theft, they are able to activate the immobiliser which prevents the motorhome's engine from restarting. It quite literally stops thieves in their tracks.
Tracker Caravan Monitor

The Tracker Caravan Monitor is Thatcham approved and has been created specifically for caravans. It comes with 2 driver ID tags which must be present when the engine is started, or the system will alert to a theft. Tracker monitor this 24 hours a day using a unique VHF signal, which can even be traced in underground car parks or shipping containers, unlike GPS.
Trackstar S7 TM470

The Trackstar S7 TM470 has been developed in conjunction with Thatcham Research and is fully Thatcham approved. This tracker has motion sensing technology which will alert the 24 hour Trackstar National Control Centre if your motorhome is moved illegally. The control centre will then contact police and provide them with updates on the motorhome's location.
We have many other motorhome trackers available as well, which you can see here, including brands like Scorpion and Vodafone. When you purchase your motorhome tracker from us, we'll install it for free at a time and place of your convenience. Then, all that's left to do is hit the road!