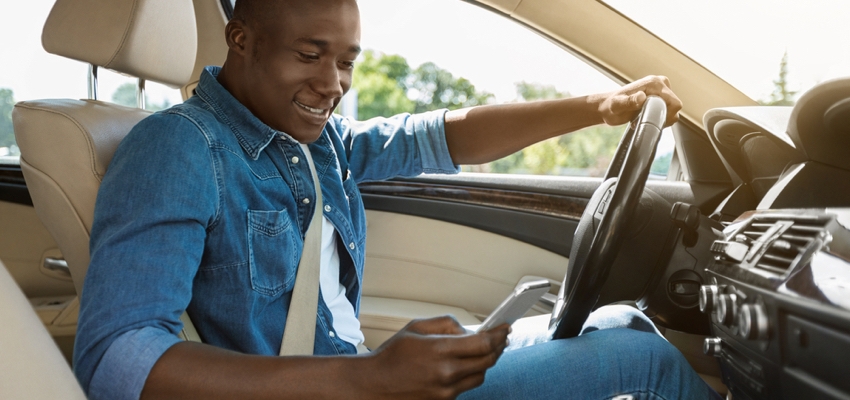 We live in an age where there's an app for everything: an app to order food, an app to book a hotel, an app to show you what you'll look like in 50 years time… and an app to track your car. We've rounded up some of the best Thatcham approved car trackers with an app, so that you will always know where your car is.
Thatcham approved or app… or both?

Car tracking apps can feel like a Godsend when it's raining, you're carrying 4 bags of shopping and you can't remember where you've parked the car. Thatcham approved car trackers with an app aren't just convenient, but provide security and performance-enhancing features.
Whilst there are some lower end car tracking apps which are cheap and easy to use, they simply don't offer the security of a Thatcham approved car tracker. This is because you are solely responsible for tracking your car. That means that if your car is stolen at 2AM and your phone is on silent, you may not know it's been stolen until hours later. This reduces the chance of catching thieves and recovering the vehicle.
This is why most insurance companies will insist on the installation of a Thatcham approved car tracker. These car trackers are monitored 24 hours a day by a control centre, so any suspicious activity will be detected instantly and an operative alerted. The operative can then contact the police to inform them of a theft and provide real time updates on the car's location.
However, some Thatcham approved car trackers do not have apps. This can leave car owners feeling out of the loop, as they cannot check the location of the vehicle themselves. Without an app, car owners also cannot access data about their previous driving behaviour, which could be used to improve driving or increase fuel efficiency. This is particularly important to people who use their cars for business.
Luckily, here at TrackerFit we have the best of both worlds: Thatcham approved car trackers with an app. Take a look at below:
SmarTrack 5+ with D-iD™ (Including Immobiliser)

This is an excellent car tracker, which comes with all the security features you could need and a free app for iPhone and Android. The SmarTrack 5+ with D-iD™ actually uses your smartphone as a form of identification, so that it knows that you are driving. Without the presence of your smartphone, the immobiliser will prevent the car engine from starting. If thieves do still manage to steal your car via towing, the 24 hour control room will be alerted and will immediately contact the police. Car owners can also monitor the location of their vehicle through the app for full peace of mind.
MetaTrak S5 VTS

This Thatcham approved car tracker comes with 2 driver ID tags which must be present when driving or the system will alert to a theft. Operatives in MetaTrak's 24 hour Secure Operating Centre will then contact police and provide information about the vehicle's whereabouts. The car owner will also be notified via the app, where they can track the vehicle's location. The app can also be used to review data from up to 20 previous journeys, including statistics like braking, cornering and acceleration. This makes it perfect for drivers who want to improve the efficiency of their driving. The app also includes options like privacy mode if you don't want data about your driving stored (this won't prevent the Secure Operating Centre from getting live updates to ensure the car isn't stolen). You can also switch the app to service mode if it's in the garage, so engineers can start the engine without needing a driver ID tag.
MetaTrak S7 ATS

The MetaTrak S7 ATS also comes with an app so that you can monitor your vehicle's location. Like the S5 VTS, it stores data from the previous 20 journeys so that you can analyse driving performance. It also includes the option to switch between different modes, like private and service mode, without impairing the ability of the Secure Operating Centre to monitor the vehicle's location in real time. Unlike the MetaTrak S5 VTS, it does not come with 2 driver ID tags. Instead, you can set up geofencing and the app will send an alert if the car is moved outside this set location. That means if the car is stolen, either you or the Secure Operating Centre will alert to it and be able to contact the police.