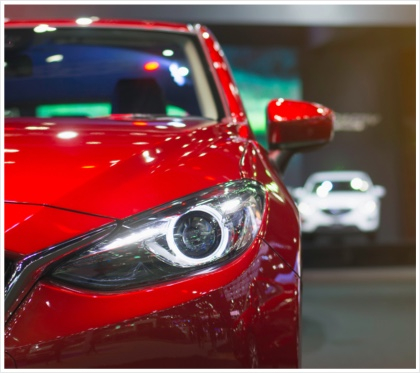 The last two years have seen an increase in the number of motorists affected by vehicle theft, with the figure increasing by 10% in 2016
When it comes to car theft, many of the models in the top 10 most stolen are luxury or discontinued models which are stolen by organised gangs, who have engineered technology that can undermine the model's security system, enabling them to unlock and steal the car.
Below we've listed the top 10 most stolen car models of 2016...
BMW 5 Series
A brand new 5 series model was released in Jan 2017, but even before its makeover, it was considered one of the best cars of its type, so it's not surprising it's on the list.
Land Rover Defender
A favourite for farmers or people living in the countryside, the Defender's security features are basic and, being such a popular model, make it an easy one to steal.
Range Rover Vogue
The highly sought-after Range Rover Vogue is a much sportier version of the Defender and, as it's popular with both city and country dwellers, makes this a common target for thieves.
Range Rover Autobiography
With extras including massage seats, a sliding sunroof, and a heated steering wheel, the model is in high demand with both consumers and - unfortunately - thieves.
BMW 3 Series
Due to its sleek exterior and user-friendly handling, this BMW model, while no longer considered best in class, is still an extremely sought-after model.
Mercedes 5 - Class
Rivalling the BMW 3 Series and Jaguar XF, this Mercedes model looks elegant, drives like a dream and again is considered one of the best models for its category.
Mercedes C-Class
The Mercedes C-Class joins the other saloons in being a thieves' favourite style of car to target.
BMW M3
The high-performance M3's turbocharged engine makes it a prime target for thieves. Boasting an acceleration of 0-62mph in just 4.1 seconds, thieves will get away quickly in this.
Range Rover Sport
The comfort and desirability of the Range Rover Sport make it a hot target for thieves, who know there is high demand for the model.
BMW X5
The BMW X5 was the UK's most stolen car for six years, before dropping off the list in 2015, but seems to have reclaimed its less than desirable spot for 2016.
Do you own one of the above cars? If so, you might want to talk to us at Tracker Fit. Our stolen vehicle trackers mean that, in the event someone takes your car, it can be swiftly recovered and the thieves brought to justice.