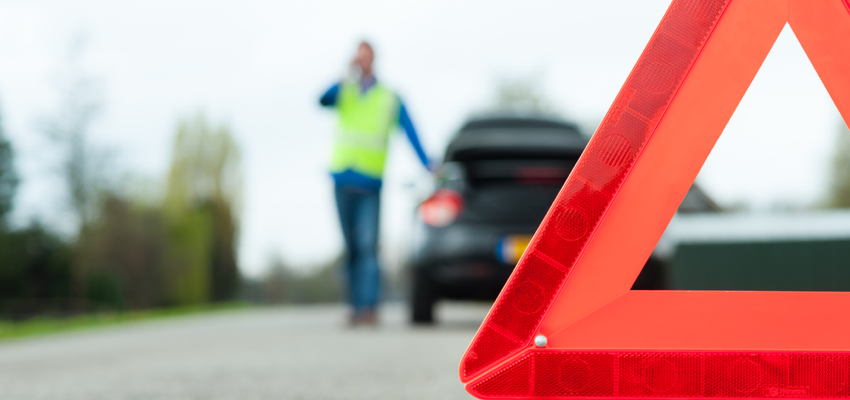 Breakdowns can happen at any time, even straight after your MOT! While you probably have breakdown cover (and if you haven't you should), a car safety kit is essential.
It doesn't matter whether it's winter or summer, you could end up in a sticky situation if you don't pack the right equipment.
Scorching weather can be as troublesome as freezing weather, so ensure you've got the right equipment for all seasons.
Here's our list of car safety kit:
1. Torch
A torch can go a long way in bad weather. A torch can provide you with light when it's dark, or if you need to find something in your car. You can also use it to look under the bonnet or the bottom of the vehicle. If you're in extreme conditions, flashing a torch could help flag over another driver so they can help you, but only do this if your torch won't blind them.
2. Reflectors
The most dangerous aspect of being stuck on a road is the chance of causing a collision with oncoming traffic. If you haven't managed to pull over safely, you'll need a method of alerting oncoming traffic. Placing reflectors around your vehicle will warn drivers, but be careful because you don't want to put yourself at risk.

3. First Aid Kit
A first aid kit is useful if you have a small collision; although call an ambulance to make sure everyone gets the necessary care. A first aid kit should contain bandages, gauze pads, adhesive tape, plasters, safety pins, antiseptic wipes and creams, curved scissors and some painkillers.
4. Jump Start Cables
Dead batteries are common, especially among the forgetful. Leave your lights on all the time? Left your door ajar with the interior light on all night? Most people have experienced a dead battery at some point. You'll need another car to jump-start a car, but hopefully another driver will notice you as they're passing.
5. High Vis Jacket
Whenever you breakdown, your safety is the most important thing. If you're wearing dark clothes, you become invisible in dark conditions, so a high vis is vital. Even in lighter weather, it helps if you have something that enables you to stand out. It helps to have jackets for your passengers too, although it's best to keep children in the car unless you're in a compromising position.

Other Useful Items:
Water

Snacks with a long shelf life

Rain poncho

Blankets

Coats, boots and extra socks

Oil

Antifreeze

Spare tyre and jack

Flares

Petrol can

Bag for storage

Small tool kit
Have You Got Your Kit Ready?
Use this list as a guide and buy what you need, but ensure you get the bare essential five items to ensure your safety if you break down.
Other Useful Blogs