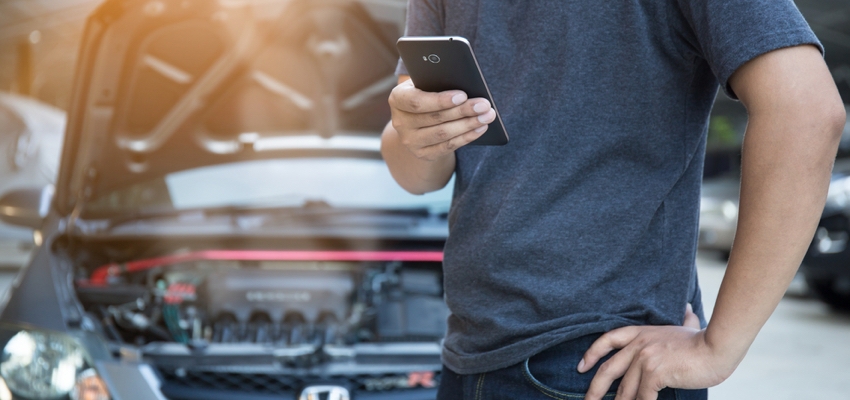 With the warm weather that comes hand in hand with summer, this time of year can be a tough time for cars. Making some simple routine checks before a long journey or a heatwave can help you to avoid a breakdown. For many car owners, annual holidays are the longest trip that they take all year round. We're holding on to hope that you'll all be able to go on some this summer, so it's a good idea to be prepared.
Here's a guide to help you avoid a summer breakdown, including car maintenance, pre-journey checks and what to pack in case you do breakdown.

Check your Tyres
It's important to consistently check the pressure of your tyres and examine them for wear and tear. If they're not in a roadworthy condition then it will not only affect your safety, but you may also receive a hefty fine and points on your license!
During the summer months, your tyres can disintegrate more quickly, or dry out causing a blowout. This is especially true if your tyre pressure is wrong. Checking your tyre pressure is easy to do using a gauge, which is available at most service stations. Don't forget to check your spare tyre too!
Your tyres should also have a tread depth of at least 1.6mm as a legal requirement, a quick and easy way to test this is the 20p test. Simply place a 20p coin into the main tread grooves of the tyre, if the outer band of the coin is covered then you're good to go!

Consider replacing your battery
Batteries are high on the list of summer breakdowns causes! Issues tend to arise from increased stop-start driving, in traffic jams or from a lot of short journeys or one long one. Times when the whole family is loaded up on a long journey to go on holiday - traffic tends to be bad and everyone has their phones, games or sat navs plugged in to charge - all of which is draining your car's battery and putting a strain on the alternator.
If your battery is getting old you might want to to consider replacing it before a long summer trip. A good rule of thumb is to replace them every 3 years, as problems can start once batteries get to 4 or 5 years old.
On the other hand, if you're using your car for a lot of short journeys it could be worth checking and charging your battery every now and again - especially if it's getting old.

Beware of Overheating
An overheating engine can cause some extensive damage to your car! Make sure that you check your engine coolant levels before setting off on a long journey. The AA has provided a useful video on how to check your coolant.
You should also have your cooling system checked by a professional. A leaking cooling system or broken cooling fan could cause the vehicle to overheat and cause some serious problems. If you have air conditioning in your car, don't worry if you see a small amount of water on the floor, It's just condensation and is totally normal.

Check your lights
Ensure that all of your lights are working correctly, including headlights, indicators and dashboard warning lights. Warning lights are super important as they'll tell you if anything is wrong with your vehicle so that you can get it fixed before it's too late.

Top up your oil, screen wash and petrol
Get into the habit of performing general maintenance on your prized possession. checking that the engine oil levels are sufficiently topped up to keep the engine working smoothly and avoid the chance of your car overheating in traffic.
Make sure you also keep your screen wash and water levels topped up. A lot of dust, bugs and even bird doo can gather on your windscreen during summer, which makes it hard to see in bright sunlight - so it's important to keep it clean.
Finally, it may sound obvious, but make sure you are well stocked up on petrol. Cars can use fuel more quickly in hot temperatures, and ensuring your car is filled up can help to avoid a breakdown.

Keep a tool kit in your car
Should the worst happen, it helps to be prepared. Many roadside breakdowns issues can be resolved if you have the right equipment with you. Some items you might include in your kit are:
A first-aid kit

A high vis jacket

A tow rope

A warning triangle

Battery jump leads

Spare engine oil and water for topping up

Drinking water

A map or sat nav

A torch

A fire extinguisher
If you do breakdown, be sure to stay calm and move your car off the road if you can and make sure all passengers are out of the car and away from the road. Use your hazard lights & warning triangle to alert other drivers that you have broken down and call for help.
We hope you're all feeling a bit more prepared for taking care of your car in summer!