BMW Trackers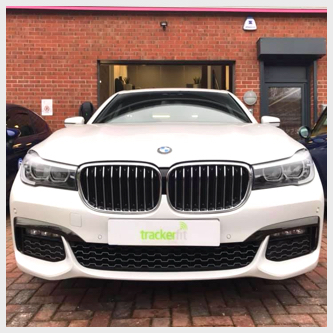 Today, BMW has incorporated more features and technology than ever into their new models. Unfortunately, that isn't enough to stop soaring car thefts. The BMW 3 series remains in the top 10 most stolen cars in 2022, with thieves attracted to its prestigious status. As microchip shortages continue, experts predict that car thefts will continue to rise over the coming years. That means that BMW technology alone cannot protect your car.
A BMW tracker provides the extra security your vehicle needs. TrackStar are the only car tracker approved by BMW. Real-time tracking allows you to locate your BMW at any given moment. TrackStar trackers are also monitored 24 hours a day by a remote security centre, where operatives will instantly alert to theft. The ability to respond quickly massively increases the chance of recovering the vehicle.
Features of a BMW Tracker
All TrackStar BMW trackers have GPS tracking technology and are monitored 24 hours a day. Check out the full range of features below.
GPS tracking - Pinpoint tracking which updates every 20 seconds, so you know exactly where your car is.
Motion sensing - Even if thieves try to tow your car, the system will still alert to a theft.
24 hour monitoring - Monitored 24 hours a day by a remote security centre.
Thatcham approved - Thatcham are an insurance industry body that test car safety and security products.
Tamper alert - The tracker will alert if anyone is trying to tamper with it.
Fully transferable - Got a new car? Don't worry, you can transfer your car tracker over.
S5 models also include:
ADR tags - An ADR tag must be present when the car is started or the system will immediately report a theft.
Free app - S5 TrackStar car trackers also come with a free app, so you can monitor your vehicle's location on the go.
Benefits of Installing a BMW Tracker
BMW trackers offer the best protection against theft. They use GPS technology to locate your vehicle at any time. This is monitored 24 hours a day at a remote security centre. That means even if you're asleep or away when your car is stolen, operatives will still detect theft.
When a theft is detected, TrackStar will contact you either via the app or a phone call. Once they confirm the car has been stolen, they will begin tracking your car's location and pass this information over to the police. They have an impeccable record of vehicle recovery, with over £20 million worth of stolen cars recovered in 2022 alone.
In fact, some insurers will only insure a BMW if a Thatcham approved car tracker is installed. They recognise that this increases the likelihood of recovering a stolen vehicle - saving them from paying out. This may even lead to cheaper car insurance, as they pass this saving on to car owners.
BMW Installation Process
At TrackerFit, our service doesn't just stop when you buy a BMW tracker. We'll also install your tracker for free nationwide, at a time and place of your choosing. We have a team of Thatcham approved installers across the UK, who have been trained to install a tracker discretely and securely. Our installers will arrange an appointment and travel to you, so you can get on with your everyday life.
Why Choose TrackerFit for Your BMW Tracker?
At TrackerFit, we pride ourselves on offering superior service. Browse hundreds of trackers on our website or give our sales team a call on 0800 7565100. We'll be happy to answer any questions and help find a BMW tracker that meets your requirements.
When you purchase a tracker from TrackerFit, we'll also install it for free. We have a team of Thatcham approved installers across the UK, who will install it at a time and place of your choosing. Whether that's home, work or a local garage - we'll work around you.
Investing in a BMW tracker system from Trackerfit is a smart decision to safeguard your vehicle against theft and enhance its security. With advanced features, real-time tracking, and professional installation, our BMW trackers provide peace of mind and increase chances of vehicle recovery. Contact Trackerfit today to discuss your requirements and find the perfect BMW tracker for your car.
People also asked:
Do BMWs have tracking devices? When buying a new car a stolen vehicle tracking package is often an optional extra and subscriptions must be kept up-to-date. We offer a range of insurance and Thatcham approved, category S5 and category S7, BMW approved trackers, from their preferred tracker brand Trackstar. Our engineers can covertly install your BMW tracker at home, workplace or even at the dealership. Our BMW recommended car trackers are fully transferable so can be removed and reinstalled on your new purchase.
How can I track my BMW? A tracker and subscription is required to track your BMW. Trackstar is the ONLY Jaguar, Land Rover, Range Rover and BMW Approved Stolen Vehicle Tracking and Recovery Product and is approved for installation throughout the UK Automotive Industry. Prices include nationwide installation. Once activated Trackstar deploys the latest GPS Stolen Vehicle Tracking technology to locate and track your vehicle, liaise with the police and recover your vehicle in the shortest possible time.
Does BMW X5 have a tracker? An up-to-date subscription with the tracking company is required to enable monitoring. For some vehicles insurance companies will only offer you cover for theft if the vehicle is fitted with an approved electronic tracking device. Gain peace of mind with a BMW approved, Police & Insurance endorsed, Thatcham S5 (formerly CAT 5) or S7 (formerly CAT 6) approved tracking device. Prices include nationwide installation.
How much is a BMW tracker? We have a range of BMW stolen vehicle trackers from only £199 which includes nationwide installation. Subscriptions available from only £168 per year. Once purchased, you will have access to the Trackstar BMW Tracker App which enables Vehicle Location, Geofencing and Journey Planner features.