Insurance Approved Trackers
Protect your vehicle today with our range of insurance approved trackers, from top brands such as Smartrack, CobraTrak, Trafficmaster, Tracker and ScorpionTrack.

With vehicle thefts on the rise and insurance premiums soaring, vehicle trackers are an excellent way to increase security on your car and reduce the costs associated with insuring your vehicle.
In the UK a car gets stolen every five minutes – with half of them never being seen again. Today's high value vehicles provide rich pickings for todays new breed of organized criminals who steal vehicles to order. Insurance approved trackers are a significant weapon against crime, in fact, over 90% of vehicles fitted with an insurance approved tracker have been recovered and 80% of these vehicles are returned to the owner within 24 hours.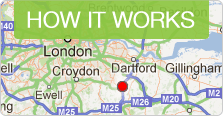 So how do vehicle tracking devices work? Our insurance approved trackers use the latest in GPS and GSM technology – providing pinpoint accuracy and unparalleled service. Once you've reported the theft of your vehicle a Secure Control Centre will begin tracking your vehicle and liase with the police until it is recovered.
Not only do our vehicle tracking devices help prevent theft, having one fitted can also reduce your insurance premiums. For some vehicles an insurance approved tracker is a pre-requisite when it comes to insuring your vehicle. Other insurance companies may offer you a discount if your vehicle is fitted with a vehicle tracker – saving you money.
We have years of experience in vehicle security and insurance approved trackers – talk to us and we will advise you on the best insurance approved tracker to suit your needs. We have a superb selection of Cat 5, Cat 6 and Cat 7 insurance approved trackers, which start from just £199.
Free Nationwide Installation
Included with our range of insurance approved trackers is free nationwide installation. Our Thatcham Approved Installers will come to your home or office at a time that suits you – meaning the whole process is stress free. The vehicle tracker will be installed discreetly in your vehicle – offering you complete peace of mind.
If you're concerned that the level security on your vehicle isn't sufficient then it's definitely worth considering purchasing an insurance approved tracker. All in all it's a worthwhile investment.
For more information on our insurance approved trackers, or to speak to a member of our team call us on 0800 756 5100.