Car Trackers Wales

Vehicle crime has fast become a profitable business with car thieves going to extreme lengths to get their hands on your most prized possessions. The recent economic depression has resulted in a vehicle crime boom with over 30,000 vehicle crimes being reported to the Police in England and Wales each month.
Therefore the need to protect your vehicle from potential thieves is greater than ever, especially if you want to avoid spending endless hours on the phone to your insurance company! The simplest and, arguably, most effective way to keep tabs on your car and deter potential thieves is to equip your vehicle with a tracker and here at TrackerFit we are specialists in car trackers Wales.
Top of The Range Technology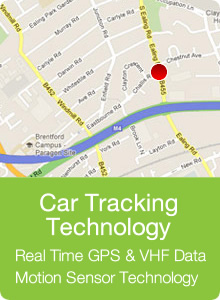 Installed discreetly, our range of market leading car trackers use the most advanced location technology available and are equipped with mobile phone and motion sensor technology which aids the recovery of stolen vehicles with minimum fuss.
Around The Clock Protection
When you invest in a car tracker Wales you'll get more than you bargain for! With around the clock security our Control Centres, which are manned all day every day, will keep tabs on your vehicle 24 hours a day, 7 days a week so you can have peace of mind knowing your car is safe and secure.
Rapid Response
As a leading supplier of car trackers Wales we are well known for locating and returning stolen cars within an hour of a theft should the unthinkable happen. Liaising with police forces up and down the country our Control Centres can accurately pinpoint the location of your vehicle to within 10 meters of its whereabouts.
Reliable
All our tracking devices are extremely reliable and have been designed with battery backup so that even power failures won't prevent them from doing their job!
It Pays to Invest in a Car Tracker
Available at competitive prices, it pays to invest in a high quality car tracker. In fact when you invest in one of our car trackers Wales then you could save yourself some much-needed money in the long run. Most insurers will offer a discount to policyholders who have a tracking device equipped in their vehicle.
Unrivalled Installation Service
We a number one for car trackers Wales and offer an unrivalled installation service nationwide. Our team of installers are all Thatcham Approved and fully trained in installing our full range of car trackers. So you can guarantee your car is guarded against theft when you use Trackerfit!

So if you require any further information or advice on our range of car trackers Wales then feel free to give us a call on 0800 756 5100