Car Trackers London

For Car Trackers London you're in the right place!
Buying a new vehicle, whether it's a car, truck, van or motorbike, is no small investment.

Keeping it safe is important for both you and your insurance company. Fitting it with tracking device is ideal for this and you may find it pays for itself.

Tracking devices are discreetly hidden, so it's not easy for thieves to know where they are - let alone render them ineffective. A tracking device also gives you and the police a big advantage in finding the vehicle quickly if it is stolen - significantly reducing the distance any thief is able to travel before apprehension.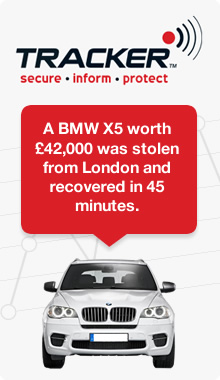 So having a tracking unit fitted to your vehicle is one of the most effective ways of protecting your property from thieves. It can also reduce the insurance premiums you are required to pay.

Established since 1998, TrackerFit both supplies and installs a large range of tracking systems from award-winning manufacturers.

With more than 25 years experience of all vehicles, TrackerFit is a Thatcham-approved installer of car trackers London for Tracker, Cobra, Trafficmaster, and Smartrack.

So if you want to improve the security of your vehicles come to Tracker Fit. You will benefit from the peace of mind that accompanies knowing that you have fitted a stolen vehicle recovery product that leads the market.

The cost of installation is free and TrackerFit's team of Thatcham-approved engineers operates throughout Britain. As well as in London, Tracker Fit has outlets in Manchester, Glasgow, Birmingham and Blackburn. This enables Tracker Fit to offer customer service that is convenient and outstanding.

TrackerFit's engineers can visit your office, depot or home as well as coming direct to the vehicle's dealership prior to you even collecting your truck, van, car or motorbike. Next day installation is also possible.

By choosing a Thatcham-approved tracker, fitted by Tracker Fit, you will be benefiting from a product that is manufactured by a brand that leads the market and is considered one of the most authoritative voices on the security products used in the automotive industry. To ensure the devices are safe and effective they have undergone exacting safety tests.

At Tracker Fit we are approved to ensure your tracking device works properly and effectively. You will have the peace of mind knowing your vehicle will be traceable if it does go missing, and you'll therefore have a good chance of its retrieval. If you're looking for car trackers London then look no further than TrackerFit - call us on 0800 096 3092. Our lines are open 9am - 9pm seven days a week.