Car Trackers Cumbria
Car trackers in Cumbria: why you should invest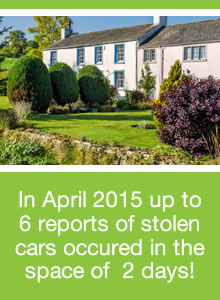 Car theft in Cumbria used to be rare, with nationwide statistics suggesting that Cumbria was in the top 10 lowest areas of car theft in the UK.
In 2015 though, that number has risen. There has been a spate of car thefts for both tourists and locals, and in April there were as many as six reports of stolen cars in the space of two days. If you have thought about protecting your car from a crime like this, then investing in one of our car trackers in Cumbria could be the right option for you.
What you need to know
A car tracker is a GPS device that can keep an eye on your vehicle 24 hours a day, seven days a week
It can help prevent vehicle theft as well as tracking mileage and bring down your insurance premiums
It can also help the police trace the whereabouts of your stolen car, should the worst happen
What are the benefits?
These devices are one of the main weapons in the fight against vehicle theft
Having a car tracker can bring down the cost of your car insurance, and improve the rates you are offered on a price plan
For businesses, car trackers can help you monitor the driving habits of your workforce, and reduce money spent on fuel and employee time
GPS devices can help your business to become more customer friendly. A lot of taxi companies use trackers so they can let their customers know how far away they are from their destination

Why choose Trackerfit?
We supply and install a wide range of Stolen Vehicle Recover and Fleet Tracking systems nationwide
We are Thatcham approved installers, so you can trust in our product and our professionalism
Our company has over 25 years of experience in fitting trackers for a range of different vehicles
Our control centres are manned 24 hours a day, and all car tracking units have battery back-up, so you can be sure that your vehicle is in good hands
Contact us today for free expert advice, so that we can make sure you make the right choice for your vehicle or business needs.