Car Trackers Cardiff
Car trackers: the solution to Cardiff's vehicle-theft problem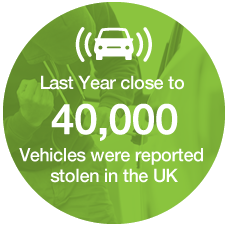 The threat of car theft is a constant menace to all drivers; close to 40,000 vehicles were reported stolen in the United Kingdom last year. And Cardiff is one of the hardest-hit centres for car crime in the country, with as many as one in 10 residents subject to vehicle theft in the past 12 months.
But now, thanks to up-to-the-minute technology, surefire measures can be taken to ensure that your vehicle, once stolen, is quickly recovered. The era of the car tracker is upon us.
How it works
A car tracker is a hi-tech device discreetly installed in your vehicle to record its movements. Cardiff-based company TrackerFit is a leading expert in car trackers. Its models harness advanced location technology, global positioning, mobile phone and motion-sensing capabilities to make sure your vehicle's every movement is recorded. What's more, a theft sets off an automatic alert, setting TrackerFit's monitoring team into action.
Ultimate protection

A TrackerFit device works around the clock to ensure against vehicle theft, through the following means:
Motion-sensing flags an alert the moment your vehicle is being moved illegally.
From the moment your vehicle is reported stolen, a Secure Control Centre tracks its movement and works with the police to ensure it is recovered.
Working 24 hours a day, seven days a week, the Secure Control Centre is always there to protect your vehicle.
The car trackers are supplied with battery back-up, so your protection is never off-line.
Easy installation - Arranging the installation of a tracker on your vehicle could not be easier
How to arrange installation
- Call the Secure Control Centre for expert advice and to book an installation, or order one from the TrackerFit website.

- A qualified engineer will come to your home or office to install the tracker whenever is convenient to you.

- The engineer connects the device and registers it with the 24-hour Secure Control Centre.
Who to call
A leading authority in car trackers, Cardiff-based TrackerFit is your one-stop shop for vehicle-monitoring security and protection. From tailored advice to convenient installation, round-the-clock connectivity and 24-hour fast-response monitoring, it provides the ultimate in vehicle protection.
Call us on 0800 756 5100 today!