There's nothing worse than the thought of losing your car, whether it's an old one, or brand spanking new. Don't become a victim of car theft – get a tracking device to monitor where your car is at any time.
Vehicle trackers will give you peace of mind and the protection that you need. If anyone does manage to get their hands on your wheels, then a good tracker will help you get your car back.
Vodafone Protect + Connect 5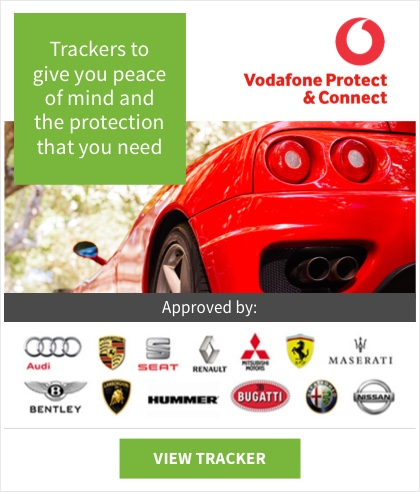 The Vodafone Protect + Connect 5 vehicle tracker has been approved by a wide range of leading car manufacturers including Lamborghini, Bentley, Hummer, Bugatti, Ferrari, Maserati, Porsche, Audi, VW, Seat, Renault, Alfa Romeo, Nissan, Mitsubishi and more! Rest assured, this CAT5 tracker is a great choice for your vehicle, as it's the highest specification tracker approved by insurers. It offers the optimum level of security for your vehicle.
It has all the benefits of the standard Vodafone/CobraTrak Plus system and some extras. A fantastic addition to this tracking device is the Automatic Driver Recognition (ADR) feature. You'll get a handy little pocket-sized card that you can carry with you whenever you drive your vehicle. If anyone tries to shift the car without the driver card present, then Vodafone's Automotive Secure Operating Centre is alerted right away. Even if someone has your keys, the ADR feature will make sure that they don't get away unnoticed.
Thieves can also be stopped in their tracks with remote engine immobilisation technology. This prevents the engine from being restarted once the car comes to a standstill. It's a great feature that will increase the chance of a stolen vehicle being recovered with little to no damage.
Keep your car safe and sound with a Vodafone Protect + Connect 5 vehicle tracker! At TrackerFit, we offer a nationwide installation service, so we'll install your tracker at a time and place that best suits you. Give us a call today on 0800 756 5100 for more information on buying a Vodafone Protect + Connect 5 car tracker.