Range Rover Trackers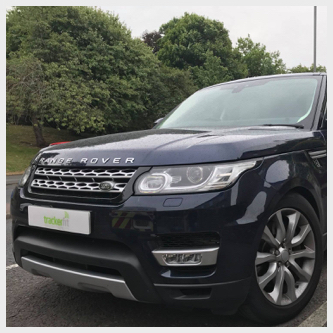 If you're unfortunate enough to have your Range Rover stolen or moved illegally, you can stay one step ahead of the thieves by buying one of our Range Rover approved trackers. This ensures you know exactly where your vehicle is at any time, thanks to unique motion sensor detection technology which will alert you if your vehicle is moved. A tracker helps to increase the chances of recovering your vehicle, which can be achieved in as little as 8 minutes!
All these trackers offer 24/7 monitoring of your vehicle from the secure stolen vehicle tracking centre for peace of mind, and are approved by both insurers and Jaguar Land Rover. Therefore, installation of an insurance approved tracker may help to reduce your insurance premiums. Our trackers are also endorsed by all police authorities.
The price of all our Range Rover trackers includes covert fitting of the device to your vehicle by an approved engineer. Installation can happen at home or while you're at work. A subscription is required for your vehicle to be tracked, but this can be purchased with your device. When you change vehicle, you can transfer your tracker to your new car as well.
There are several features that will leave you reassured that there's a high chance of your vehicle being recovered.
Firstly, tracking is European-wide as standard.
Secondly, there's a full battery back-up to keep your vehicle protected should thieves disconnect the battery. When activated, the tracker sends the position of your vehicle every 20 seconds! So it doesn't matter where your vehicle is taken when stolen, it can be found and recovered by the relevant authorities.
Our secure trackers are suitable for all makes and models, so why take a risk with your Range Rover Evoque, Velar or Sport? Buy one of our trackers and benefit from the latest in stolen vehicle tracking technology today.
People also asked:
Do Range Rovers have trackers? An optional extra when buying a new vehicle, we can help you cut the costs of buying a tracker through the main dealer. We offer a range of insurance and Thatcham approved, category S5 and category S7, Range Rover approved trackers, from their preferred tracker brand Trackstar. Our engineers can install your tracker at home, workplace or even at the main dealership.
Does the Range Rover Evoque have a tracking device? Gain peace of mind with a Range Rover approved, Police & Insurance endorsed, Thatcham S5 (formerly CAT 5) or S7 (formerly CAT 6) approved tracking device. Prices include nationwide installation.
Do Range Rovers have tracking devices? Trackstar is the ONLY Jaguar, Land Rover, Range Rover and BMW Approved Stolen Vehicle Tracking and Recovery Product and is approved for installation throughout the UK Automotive Industry.
Are Range Rovers fitted with trackers? Our Range Rover approved trackers are fully transferable so can be removed and reinstalled on your new purchase.
How much are car tracking devices? We have a range of Range Rover approved trackers from £199 which includes nationwide installation. Subscriptions available from only £168 per year. Once purchased, you will have access to the Trackstar Range Rover Tracker App which enables Vehicle Location, Geofencing and Journey Planner features.