Car Trackers Lancashire

It's bad news for car owners in Lancashire, statistics show car theft is on the rise in the county despite national figures falling.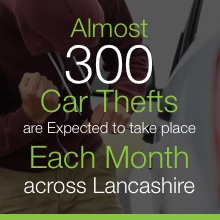 Almost 300 car thefts are expected to take place each month across Lancashire with Burnley and Blackpool being the towns worst affected.
With this in mind it's imperative car owners in Lancashire do everything they can to keep their wheels safe from potential car thieves! Luckily TrackerFit have a simple, cost effective solution, high quality car trackers.
Easy to install a car tracker is a small price to pay for 24/7 protection of your most prized possession. Not only that, a car tracker could help you avoid the stress, anger and faffing around with insurance companies should the unthinkable happen.
To date car trackers have recovered a massive £460,000,000 worth of cars, impressive eh?
As a leading supplier of car trackers Lancashire we stock some of the industries biggest brands including:
Experts in car trackers Lancashire we install sophisticated trackers on all makes and models of vehicle.
Reduce insurance premiums
Installing a high quality car tracker into your vehicle could help reduce insurance premiums. The car trackers we supply are approved by most insurance companies.
Insurance and Thatcham approved car trackers, starting from £199 fitted!
The Tracking Process
Using the latest motion sensing technology a sophisticated car tracker can recognise illegal movement of your vehicle.
Once you've confirmed the theft Secure Control Centres, which are manned 24/7, will work alongside Lancashire Police Force until your vehicle is found.
Thatcham Approved Installation On All Car Trackers in Lancashire!
With a team of Thatcham approved engineers we offer a FREE nationwide installation service at a time and place that best suits you in the Lancashire area!
So what next?
If you're looking to keep your most prized possession safe from lurking car thieves in Lancashire call our experts on 0161 302 0551 to discuss which car tracker would best suit your vehicle…